Popular Posts
RECENT BLOG POSTS
Read the Past Six Months Posts
Art Marketing Extra
Art Business & Marketing Tools & Tips Newsletter
Are You Ready for New Ideas to Sell Art and Grow Your Audience?
Would you like to learn how to do those things efficiently?
Do you believe artists benefit from affordable, straightforward art marketing training?
If so, Art Marketing Extra (AMXtra) is for you.
Expert Art Marketing Advice for Visual Artists
Tips to market art your way.

Exclusive Premium Content for Artists.
Twice-monthly e-Newsletter with Interactive Livestream.
$5 month forever. No contract.
Unlock Your Creative Potential – Learn How to Market Your Art and Grow Your Business with AMXtra.
Do you love what you do but have trouble growing your audience? Join the AMXtra collaborative community of visual artists learning to sell their art and market online.
AMXtra is a twice-a-month newsletter with interactive Livestream training, our exclusive library of art marketing workbooks, and companion training videos.
Get access to business tips and inspiration that help you do more with less.
Subscribe now to get these valuable resources. Be inspired by practical insights that help you use your real-life skills!
Artists get marketing and business advice directly from an expert—me.
You'll learn new ways to sell more art, develop deep relationships with clients, meet new people, and improve your reputation.
Take a peek at everything that's included in your subscription package by clicking here.
Art Marketing Business Books for Visual Artists
As Seen In
---
ONE-ON-ONE COACHING
Make the Most of Your Art Business
I believe setting and achieving goals is how you make dreams come true. I'm here to encourage your best self, help you set goals and enable you to get things done.
Click the button to learn about coaching options.
Barney Davey
Publisher, Art Marketing News
About the Publisher
Barney Davey is an art industry veteran with extensive background in art business publishing and tradeshows. His goal is to encourage artists to find balance so they can enable themselves to enjoy their careers and their lives as artists.
Davey has published the weekly Art Marketing News blog since 2005. The same year as the first of his six bestselling art marketing books. He's presented workshops and published articles for The Artist's Magazine, Art Business News, Art World News, Professional Artist, Picture Framing Magazine, Artists Network and more. He is the founder and publisher of AMXtra - the exclusive art marketing newsletter.
---
Testimonials
"Thank you for the excellent instruction you provided for us sculptors at the Loveland, Colorado Sculpture in the Park artist's seminar. Because of your presentation, I was able to sell 60% of the sculpture that I brought to sell at the show."
J. Richard White
Jane Smith
"I've been an artist in two different mediums for over 25 years. I had some modicum of success. However, since I've been reading Barney Davey's books and joined the Art Marketing Mastery Workshop Facebook group I've learned more about art marketing and found tools that consistently work…Each time I utilize your training, I learn something, and go on to make art sales. I'm very grateful."
Jana Kappeler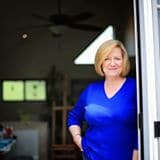 Shane Melaugh