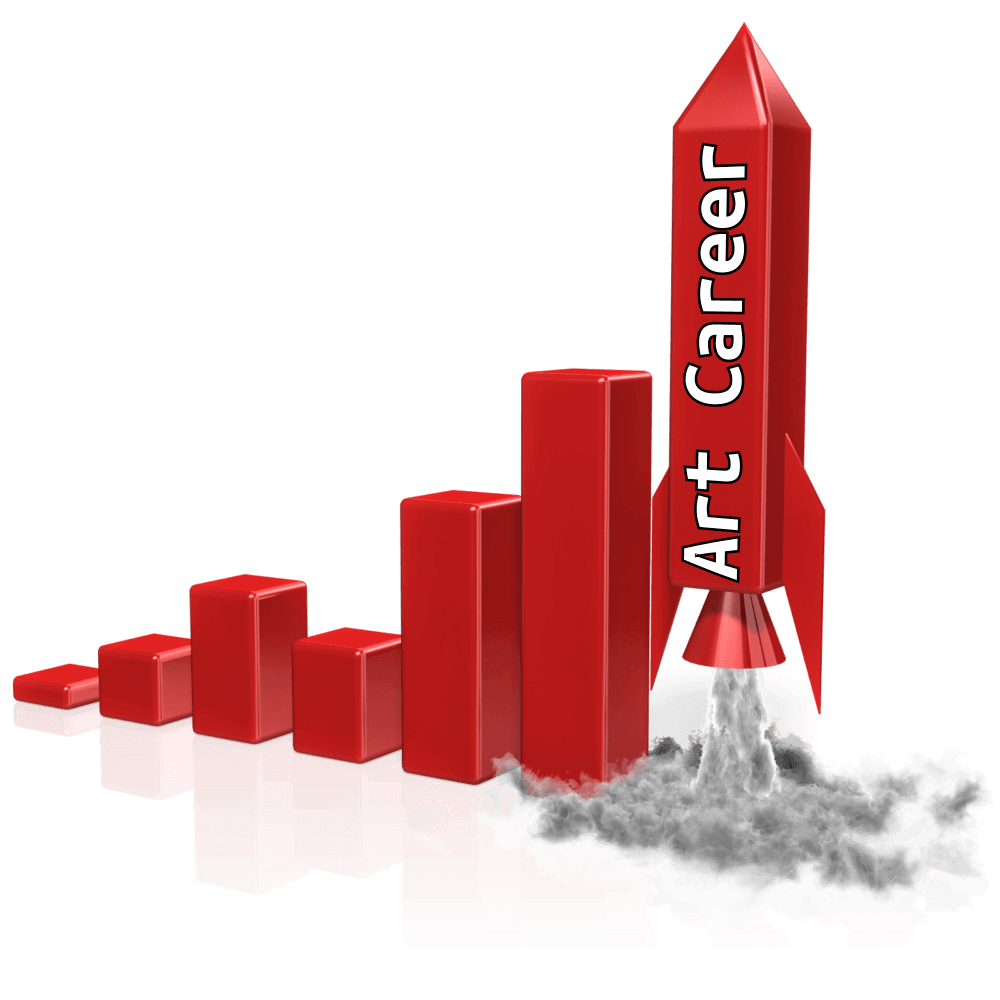 5 Reasons Networking Rockets Art Careers
Networking for artists is powerful.
Most often, low sales results are due to not enough qualified buyers seeing your art.
You will go far in fixing the problem by learning effective networking techniques.
Here are five benefits of networking for artists:
Rock solid collector base
Long-term relationships
Referrals
Easy sales
Affordable
We will cover the above points in more detail. First, let me stress how much I believe in the power of networking for artists. I have blogged about it here several times.
In my bestselling book, (Amazon Business of Art list),  Guerrilla Marketing for Artists
, I devote an entire chapter to "Networking." The second chapter in it covers "Local Marketing," which is in effect an extension of networking.
What is networking?
Networking is about building relationships. It is about growing your business by developing both personal and professional connections to help you create a continuous, steady supply of new business. Ask yourself how many people you know. Among those people, how many of them know what you do, that you are an artist? How many of these folks have directed prospects to you? And, of those opportunities, how many added to your bottom line by purchasing your art? If your numbers are low on your responses, this is a beneficial thing in that you have many new prospects for buying your work.
Networking is more than just showing up at the Chamber of Commerce or other local business-networking meetings, shaking hands and collecting a bunch of business cards. That doesn't work. Frankly, it never worked. Networking is about showing up with a particular goal in mind. It may be that you want to meet one or two people you do not know, but you think might be helpful to you. It could be that you are attempting to reach a specific person, as in the "six degrees of you" exercise discussed in the previous chapter. Start with good intentions and use your continually improving networking skills to achieve your desired results. Finally, follow up efficiently, so your effort pays off.
Let's talk about those five networking benefits:
Rock solid collector base – when you have buyers who know you personally, they are likely to buy multiple pieces of your work directly from you over time. Sales such as these immunize you against bad things beyond your control like galleries closing, Facebook fading and so forth.
Long-term relationships – although not every connection you make through networking may last forever, your odds of enjoying enduring friendships and professional acquaintances vastly increase through it.
Referrals – networking is not a one-to-one dynamic. It is not about who you know. It is all about who knows you. Word of mouth is the most potent marketing on the planet. It can make or break a new movie, change the course of a political race, and inform and persuade public opinion. If ten people you know each tell ten other people about you, you have exponentially grown your awareness, your brand and ultimately your sales.
Easy Sales – the most natural people to sell something to are the people you know because you don't have to establish credibility with them. The next easiest to sell are those known to your circle of family, friends, fans, and associates. Whenever affinity exists, sales get easier. Networking assists your sales efforts in myriad untold ways.
Affordable – art marketing in general today is inexpensive due to digital tools such as websites, blogs, email, and social media. While these recommended assets are valuable, none can touch the power of personal relationships developed through networking. And, other than your time in attending, planning and following up, there virtually is no cost
The opportunities you develop through networking go beyond these five points. It will increase your confidence and poise, further your reputation, and make a positive influence on your art career in unforeseen ways. Besides being low cost and low tech, networking is both practical and efficient in helping you reach precisely the right people.
Networking will put you in touch with people who can do more than to buy your art or make introductions to influential connections for you. It gives you the opportunity to share your knowledge and gain the advice and wisdom of those who are both capable and ready to help you advance your career.
Reputation is an essential asset to the success of any business. In the art world, it is even more critical. If your reputation precedes you when a potential new buyer encounters your work in a sales situation, whether in a gallery, online or in person, your ability to close that sale increases. dramatically
---
RELATED POSTS